IF IT'S NOT
RIGHT
IT'S PROBABLY
WRONG
Right Striping
If it's not RIGHT, it's probably WRONG
Locally owned and operated since 2012, Right Striping offers parking lot painting, striping, stenciling, fixtures and much more for properties of any type or size.
Over 25 years of combined experience,
our highly trained team can help you with incredible attention to detail for professional results.
Contractor License #982493
Striping
Parking lots of Any Size
With remarkable attention to detail, we stripe your parking lot carefully. We make sure we do not overspray onto the plants, surrounding concrete, or asphalt.
Professional Asphalt Maintenance
Commercial Lots
Professional Striping
Have your commercial parking lot done properly by employing the best striping services available from Right Striping. Add additional functionality to your property. Whether you need resealing or have new construction that needs initial striping, Right Striping can provide what you need for your property. We can work on properties of any size. Our experienced team will clean the parking lot thoroughly before striping to offer an amazing finish for striping, signs, and other markers.
Truncated Dome
(Textured Warning Pads for the Visually Impaired)
Crack Fills
Detailed Asphalt Maintenance
Spruce up the blacktops on your commercial or residential property with the professional maintenance services from Right Striping
Professional Asphalt Maintenance
Repair & Maintenance
Crack Filling
Let Right Striping repair ugly cracks and holes in your parking lot or other surfaces. We offer resealing services to ensure a flawless finish on your driveway, walkway, and more. Our owner is on-site at every job to ensure quality and your satisfaction. You'll receive a one-year guarantee on all of our work.
We are a locally owned and operated business. You can rely on us as we have more than 25 years of combined industry experience.
Pothole Repair & Crack Filling
Stenciling
Skilled Stenciling 
We take the time to ensure perfect results by offering detailed cleaning for the best painting and stenciling application on any surface.
Professional Asphalt Maintenance
Stenciling 
Pro Stenciling
Receive top-notch stenciling services for courts, airport runways, and more. Right Striping uses quality products to ensure you get the best finish for stenciling lines. You'll receive a one-year guarantee on all our work, and our owner is always on-site to ensure your satisfaction.
Lot Fixtures
Flawless Parking Lot Fixtures
We offer a one -year guarantee on all our work, which is overseen on every job by our owner to ensure quality and satisfaction.
Professional Asphalt Maintenance
Fixture Installations 
Installed with Prowess
Have safe and effective new parking lot fixtures installed to add helpful features for the public and your customers. Right Striping can install fixtures on any pathway or parking lot during the asphalt maintenance or striping stage.
Let us complete your property with any necessary signage and fixtures. Our attention to detail is what allows for the best possible installations and parking lot striping results.
Effective Safety Fixtures
Let us install fixtures for parking lots, trails, paths and anywhere else a sign or other fixture is needed.
Products
Never Sacrifice Quality for Price
Free Estimates!
Call or Text Today
California's Top Asphalt Sealer for More Than 30 Years
With many products on the market today to take care of your asphalt maintenance needs, it is easy to sacrifice quality for price. That's why Right Striping uses only those products that we believe will provide you with the quality and results you are seeking. Our products have been selected through years of experience, based on performance, durability, and "finished product" results.

This includes using a composition of refined petroleum asphalt emulsion, fillers and fibers. This cold-applied resurfacing and sealing material is ideally suited for parking lots, driveways, playgrounds, tennis courts and other similar asphalt pavement surfaces.
| Material Specifications | Limits | Test Methods |
| --- | --- | --- |
| Residue at 300 to 400°F, % | 55 to 65 | See note 1 |
| Dehydration, 96 hours at 100°F | 0.6 min | N/A |
| Solubility of residue in C2HCI3, % | 15 to 20 | ASHTO T 45 to 46 |
| Loss on ignition of insoluble residue, % | 16 max | ASTM D 6 |
| Cone penetration at 77°F, dmm | 400 to 700 | ASTM D 217 |
| Solubility of residue in C2HCI3, % | 15 to 20 | ASHTO T 45 to 46 |
Note 1:
Method for determination of residue: A 25-gram sample shall be placed in a tin lid less than 5 inches in diameter and heated on an electric hot plate at a temperature between 300°F and 400°F for approximately 15 to 20 minutes until the vapor changes from white to a bluish color and bubbling ceases.
Surface Preparation
Damaged asphalt and areas completely saturated by oil or grease should be removed and replaced or repaired as required. Cracks 1/8 of an inch to a maximum of a 1/2-inch in width should be cleaned and filled with crack filler.
Areas to be sealed should be cleaned and free of dust and dirt. Heavy grease and oil should be removed, and the surface should be primed with an oil spot treatment. Prior to the first application in exceptionally hot weather, dampen the surface with water. Remove any excess water to leave the surface only slightly damp.
Application
Sealer should be mixed to a uniform, free-flowing consistency. Water shall be added ― not to exceed 15 percent by volume ― to obtain a semi-fluid consistency. Depending on the asphalt surface, one or more coats of sealer should be applied to the area in continuous parallel lines and spread immediately by use of a rubber-faced squeegee, brush and/or mechanized material spreading equipment.
Subsequent coats of sealer may be applied as soon as the sealer is dry enough to walk on without picking up. Complete cutting will probably take 24 hours in warm, clear weather.
Coverage
Depending on the surface of the asphalt, one or more applications should be applied at the rate of 18 to 35 gallons per 1,000 square feet of surface area. The surface area should be smooth and uniform.
Precautions
Asphalt should be thoroughly cured before application. New asphalt should be allowed to cure at least 30 days before application. Asphalt sealcoat shall only be applied when the surface temperature is 55°F and rising. Do not apply if rain is forecast within 48 hours after application. Wash tools in water. Use paint thinner if material has dried. Keep from freezing. Do not store in direct sunlight or where temperatures exceed 100°F. Container should be closed when not in use. Keep out of reach of children.
Packaging
5-gallon Pails, 50-gallon Drums (Bulk)
Due to the wide range of variables affecting the results of application, such as weather conditions, construction, equipment and quality of other materials. There is no warranty expressed or implied, that following this specification, or using the materials covered thereby, will assure satisfactory results. Protect from freezing.
Environmentally Friendly & Lasting Pavement Markings
Ennis-Flint manufactures and supplies a full line of traffic paints in both waterborne and solvent-based formulations engineered to meet your specification whether federal, state, local or commercial based.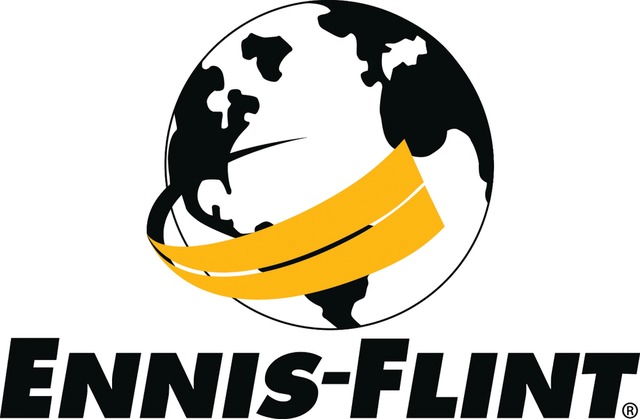 Solvent Based Traffic Paint
Solvent-based traffic paints are co-polymer based and formulated for use on streets and highways, rural roads and parking lots.
Solvent-based formulas are especially suitable for colder ambient applications where waterborne cannot be used. Suitable for application on bituminous and concrete substrates, a 15-mil application can be applied at temperatures near freezing; for faster drying times, it can be heated (maximum of 125°F) and sprayed with airless or conventional spray equipment.
Solvent-based paints are classified as high VOC and low VOC.
High VOC > 150 g/l typically 450 g/l
Chlorinated rubber
Regular dry alkyd
Acrylic copolymer
Acrylic copolymer (low VOC)
Product Benefits
Versatile quick-dry times with excellent durability
Applies with ease at ambient temperatures as low as 40°F
Designed to be used with or without glass beads
Available in both zone markings and low VOC formulations
Allows for traffic markings in the colder "shoulder" season
Dries to no pickup in 10 minutes or less when applied at 15 mils
Waterborne Traffic Paint:
Ennis-Flint manufactures and supplies a full line of traffic paints in both waterborne and solvent-based formulations engineered to meet your specification whether federal, state, local or commercial based.
Environmentally friendly and lasting pavement markings, waterborne traffic paint is based on proven acrylic emulsion technologies. Formulated for use in a wide range of applications from streets and highways to parking lots, waterborne traffic paints can be applied from temperatures as low as 35°F to as high as 120°F. Waterborne paints are suitable for application on both bituminous and concrete substrates and can be sprayed with airless or conventional spray equipment.
Standard Dry
Low VOC formula; non-flammable
Reduces & cleans up with water
Excellent atomization & application characteristics
Dries to a durable, abrasion-resistant finish in temperatures of 50°F and higher
Fast Dry
Worker & environmentally friendly
Proven waterborne acrylic durability
Minimizes traffic control when restriping
Dries to "no track" in two minutes or less under standard conditions at 15 wet mils compared to 25 minutes standard
High Build
Increased durability through greater film build (30 mils)
Dries to "no track" in three minutes or less under standard conditions at 30 mils
Flexible paint film to withstand road expansion & contraction
Has ability to hold larger beads for enhanced retroreflectivity
Durasheen
Specifically for use where dirt pickup is an issue
Excellent atomization & application characteristics
Performs equally well on both asphalt & concrete surfaces
Most commonly used for curbs on roadways & parking lots
Extended
Developed for use from early spring until late fall
Specialized formula eliminates switching to solvent systems in cold climates
Eliminates hazardous waste and minimizes exposure to chemicals
"No track" in less than 10 minutes at temperatures of 35°F and higher
Nine-month shelf life